Welcome to The Enchanting Wiki of Wonderland!
An encyclopedia of All Things Alice
Browse The Looking-Glass Wiki
Featured Article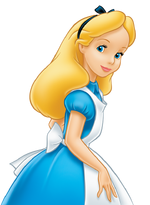 Alice is an well mannered child who made two trips to two Different and eccentric worlds. The trips to the lands of Wonderland and Looking-Glass Land will change how she see's the world.


Alice lives with her Father and Sister in England where her best friend was her cat Diana. One day a while daydreaming by the river bank she notices a peculiar rabbit in a waistcoat. What stroke her as odd was when the rabbit started talking, muttering about being late to himself. Curious she followed him to a rabbit hole where she would fall in and begin her journey through Wonderland.
Read More
Community content is available under
CC-BY-SA
unless otherwise noted.